Review: The Yes Brain
The Yes Brain: How to Cultivate Courage, Curiosity, and Resilience in Your Child
By Daniel J. Siegel and Tina Payne Bryson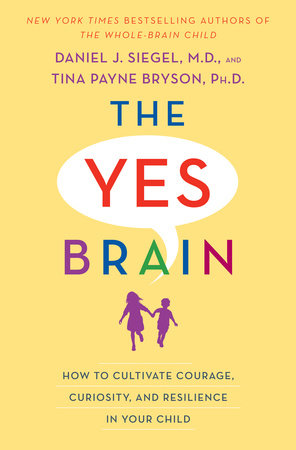 "…[B]ehavior is communication. And problematic behavior is actually a message, where our kids are saying, 'I need help building skills in this certain area. I can't do this well yet.'"
This book is all about positive parenting, which is something that Siegel and Bryson have done a great job promoting. I had a hard time grasping "The Yes Brain" concept, I think it's all about being in the positive part of your mindset but it's not a solid and easily described idea. If you haven't tackled any other positive parenting books, I think this one is a good place to start. It has some great tools for parents. It's focused on shaping kids' behavior by promoting good behavior, and by teaching kids how to regulate their own behavior using some conditioning. It's a great resource if you're frustrated as a parent (who isn't?). The structure of the book is based on the "4 fundamentals", which are Balance, Resilience, Insight, and Empathy; so it's not focused on the specific behaviors but on really addressing any behavior by bringing in those fundamentals. This includes discussion of lifestyle (no overscheduling!) and the importance of free play, sleep, and connection. There are specific examples in each section that parents will find helpful, such as a kid who can't deal with losing soccer games and separation anxiety at school drop-off.
"Our kids are precious, but they're not fragile."
Recent research shows that GRIT is the best measure of success in kids, that the kids who are resilient are the most successful. There is no standard way to teach grit, but this book seems like a really good start. Teaching kids how to regulate their responses is really useful as they become adults. I mean, who doesn't feel like they could do better at that? I'm interested in this approach and happy that we don't have to rely on time-outs or strict discipline to "toughen up" our kids. Highly recommended.
If you are parenting a toddler and interested in a similar approach, I also recommend Tova Klein's How Toddlers Thrive.
Five stars!
My thanks to Netgalley and Random House Publishing for providing me an electronic galley of this book free of charge. My opinions are my own.